Ver mapa más grande
In a city as diverse and rich as Barcelona, choosing the right neighborhood to stay in can go a long way into making your trip either a pleasant experience or one to forget. Each barrio, like most things in life, offers distinct advantages and disadvantages, depending on what you're looking for. Wanna spend your nights bar and club hopping, and your days lounging at the beach? Then don't stay near the Sagrada Familia; given it's a good hour walk, there's no direct metro line to either, and you're looking at a 15-euro cab fare minimum at night. However, if you're interested in a little peace and quiet in a beautiful neighborhood after a hard day of sightseeing, eating and drinking - then it's the perfect spot. So with that in mind, here's the low-down on the different barrios of Barcelona - starting with those around the center.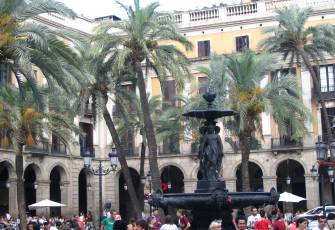 El Barrio Gotico (the Old City). Topped by Plaza Catalunya with Las Ramblas on one side and Via Laietana on the other, it is in many ways the heart of Barcelona. Getting lost in its hundreds of twisting, medieval, cobble-stone alleys and buildings during the day is a must, while at night the many bars and clubs attract tourists and locals alike, making it a great spot to taste Barcelona's vibrant nightlife. That said: don't expect peace and quiet or modern amenities like an elevator, and be careful with your belongings. Still, with it only a twenty-minute walk to Barcenoleta and the beach, and with a chance to stay in a classic setting like
Plaza Real
, it's a great location for those looking to literally be where all the action is.
Above el Barrio Gotico to the right is Plaza Urquinaona and the start of the Eixample Dreta (right) district. A mostly residential neighborhood that's surprisingly quiet at night, the apartments tend to be airy and spacious with elevators, and lots of natural light. In and around here is a great location with the city-center a five minute walk and a metro station with lines to Plaza Espanya (red) and the beach (yellow). However, the further you go into the neighborhood the more remote from Barcelona you feel and the longer it takes to get places.
Below Eixample and on the other side of Via Laietana is el Borne. Once upon a time, it was as seedy as el Raval, now it's one of the trendier barrios of Barcelona. The buildings are a mix of old and new, making elevators and space hit or miss, while the neighborhood itself is full of hidden squares and cool little nooks and crannies with a happening nightlife for the posher crowd, but along with it comes the constant street buzz drunks stumbling home, and some petty crime.
Meanwhile, to the right of Plaza Catalunya is an area known as El Triangle, and one four-to five star hotel after another until you get to Plaza Universitat and the start of Eixample Esquerra (Left) with apartments similar to its namesake on the right. The best advice I could give is look for places off the streets: Aragó and Muntaner, unless you like roaring scooters and cars for a lullaby.
Anyone got anything to add?